The US Pacific Command (PACOM) hosted the second Maritime Environmental Security Workshop (MESW) in Kota Kinabalu, Malaysia from Sep 12-15, 2017. Teng Hoi and partners from Stop Fish Bombing! (SFB!) provided assistance to the PACOM personnel in developing the themes and structure of the workshop as well as identifying speakers and delegates. PACOM are working to minimize the risk of conflicts locally and regionally arising from growing threats such as fish bombing, IUU fishing, illegal wildlife trade and water supply shortage.
To build on the success from the first workshop in September 2016, MESW aimed to address environmental security issues and encourage civilian-military cooperation in the Asia Pacific region by having delegates develop and submit project outlines. PACOM would then help to source funds and other resources for projects with merit in 2018. Over ten countries represented by 100 leaders from the military, NGOs, policy, and academia attended the three and a half day workshop.
Structure and Focuses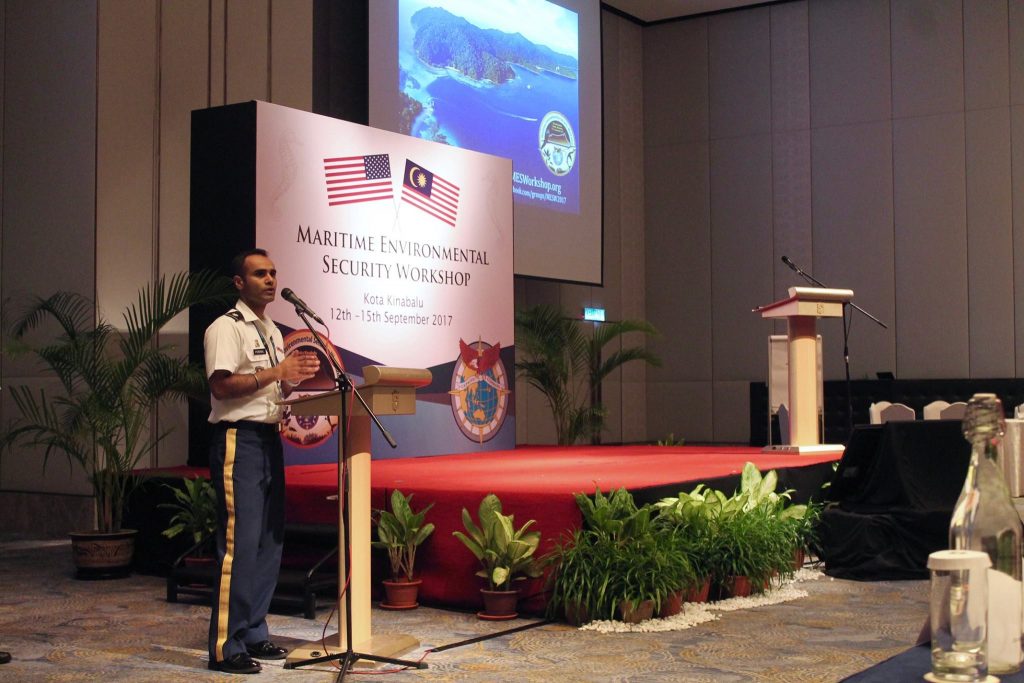 This year's MESW had over 20 experts speak about the following three areas:
Marine Resource Protection – coastal defense, marine spacial planning, fishing methods, coral restoration, economic development, and more
Maritime Wildlife Protection – conservation efforts, policy and legal framework, coral protection, wildlife trade and trafficking, protection initiatives, and more
Water Security – water demand and supply management, water quality, island water issues pollution prevention, case studies, water reuse, treatment technology, and more
Work group activities were introduced in addition to the presentations to allow attendees to network with each other and share inputs on the day's topic. This interaction fostered continuous discussion and collaboration across all sectors as well as expanded knowledge of current efforts made to achieve common goals.
Outcomes
Maritime environmental security concerns are to be addressed with urgency, as evident from UN's Sustainable Development Goal 14. The MESW stressed the need for tangible solutions and civilian-military collaborations in order to create impact and maintain peace in the region.
Datuk Masidi, the Minister of Tourism, Culture, and Environment Sabah, formally opened the workshop. Datuk Pang, the Assistant Minister, gave a short presentation.  
Furthermore, following the workshop, the Sabah government agreed to give first approval to the Action Plan that is being developed by a coalition of partners including SFB.  The Action Plan will be discussed at cabinet level and if approved, will change the governance of the marine environment in Sabah.
See the MESW Facebook page for more photos.